"WHY do Euro-White countries keep their floodgates open to 3rd-world immigrants when so many Canadians, Irishmen, Americans, Australians, New Zealanders, British or other Europeans are unemployed or under-employed??
[WHITE PEOPLE on Earth?  ANSWER.]
Frankly, the reasons are NOT about jobs, nor growing our economy, nor replacing the aging workers, nor "helping" poor nations! But, those are the untenable reasons falsely given for maintaining mass NON-white immigration into our predominately White nations.
In a nutshell … the real purpose is to dis-empower White Christian majorities in their White homogeneous nations for the sole purpose of ushering in the "New World Order".
The more squabbling, the more dis-united, and the more racially incompatible we become … then, all that much better for the hidden rulers who manage this agenda. It's much easier to divide and rule them ("Order out of Chaos" – Masonic motto) when incompatible foreigners are introduced into stable, White majority countries.
The constant prattle about "employment" and "economic statistics" is just smoke and mirrors used to distract people away from the real goal — which is racial and religious strife at any cost!  (Look around you at the ever increasing chaos surrounding you today, compared to the relative domestic peace we experienced up to about 30 years ago.)
To make mass 3rd world, NON-white immigration more attractive and thus more easily acceptable, several "fringe benefits" were attached to the package to help entice the various elements (politics, business, religious, ethnic, and gullible college students) into compliance.
Those "benefits" serve to lure the unsuspecting 'sheeple' into lending their unbridled support for their own suicide mission, and thus leading them to their own DISPLACEMENT.
First, a TEST case was needed
…con't…
One example of that notion — affirmative-action ("employment-equity" in Canada) —
– and suddenly you W.H.A.Ms know what displacement means when your ability to earn an income is in jeopardy.
I agree with the definition of some multi-culti horn blowers as being "emotionally–afflicted fanatics".
But that description only applies to the lower-level 'Useful Idiots'  or "social justice warriors" who have been indoctrinated to "the cause". They turn against their own people, including "racist" family members and friends harboring divergent viewpoints from their own.
Those Leftist/liberal fools would be attracted to any trendy fad. They need a cause just for living, and have no idea they've been thoroughly brainwashed with meaningless slogans such as "diversity is strength", or the "joys of diversity" and other such brain-numbing drivel.
These Orwellian mantras are repeatedly broadcast into receptive minds — and many sheeple — actually believe these tailor-made lures used to snare the unwitting dupes amongst us. The city of Toronto has even adopted one those phrases for its own use.
However, the sinister ideologues and master manipulators — the real power people who operate behind the scenes, — and who orchestrate social trends that control those "Useful Idiots" (their words) … are by no means wacky or "socially progressive" themselves. They know EXACTLY what they are doing.
Do not underestimate your sinister enemy! This vast worldwide immigration destruction that we see happening before our eyes every day could not be so well planned, so thought-out in every detail, and so impressively effective as it is… if conceived by deranged lunatics.
Dumbing us down!
The new world orderlies are destroying White majorities in every nation where homogeneous Whites reside. This White population reduction would severely reduce any threat or resistance to the cabal's hidden agenda.
Unfortunately, the Master Slavers are succeeding with their plans, and they're aided & abetted by the targeted, unaware White people themselves!
The same power-brokers who led a successful 40-year campaign to topple America's Euro–sourced (1965) immigration laws were not preoccupied, nor cared one whit about job issues, nor national labor "shortages". No, the end goal is diluting the White majority population into mis-aligned, fractured units that serve their purposes well enough. The U.S. White majority population has declined from about 90% in 1960… to LESS than 63%  today, and soon to 60% White.
CANADA introduced its own official "multiculturalism" (multi-racialism) program, and Australia abandoned its "White Only" policies during the 1970s. These divergent racial policies were forced upon the nation's people — not for any benefit of those countries — but simply to create disorder in the lead-up to the cabal's  "New World Order".
To reiterate…  this unprecedented, nation-destroying phenomenon described as mass 3rd world immigration into predominately White-Euro nations has NOTHING to do with employment statistics or job creation, and never will be (although cheap 3rd-world labor is an added benefit to seduce the owner class); and baffled people striving to understand this ongoing mass 3rd world onslaught in terms of employment… are simply barking up the wrong tree.
There is NO answer to be found there. Wake up, people! That false trail is NOT what this whole NON-white immigration disaster is all about!
It's YOUR displacement that really matters to them.
Ask yourself this question. How was it possible for White-Euro countries to have managed successful economies without the "benefit" of 3rd world immigration before now?? About half the world's population is illiterate, and live on less than two dollars per day.
Yet, imported 3rd world foreigners have also been duped into believing  they're here to  "help us grow" already fully-developed economies in European-based nations! These are the ludicrous excuses used to usher in through Canada's door — for example — a minimum of 5,000 new immigrants week after week since 1990!
The United States has a mass influx of over one million LEGAL immigrants, plus another million ILLEGAL migrants who cross into to U.S. every year!
That Orwellian illogic makes no sense when many 3rd world hell-holes are struggling to advance their own economies, and that is after exporting our western technology plus our generous monetary aid to their corrupt governments.
Immigrants to Canada cost Canadian tax-payers an astounding $23,000,000,000 (Billion) per year. Immigrants receive that amount in service requirements (e.g. welfare payments, hospital care, etc.) over and above what these foreign arrivals actually pay in taxes.
If Canada was a company that was forced to hire well-over 300,000 "employees" per year just to add to the excess surpluses from previous years … then where are the benefits to the "company"? 

If the "company"  books declare a consistent net loss due to excess labour… then it should immediately close its doors and declare bankruptcy! There's no logical business reason to remain open when the "company" suffers a consistent net financial LOSS of upwards to $35 BILLION year after year. But that's how our immigration "system" works.

Over four decades ago, Feminism was growing in accordance to rules of destroying the family unit, and White Western nations were duped into accepting the "Zero-population Growth" (ZPG) mantra aimed directly at White women to stop birthing more White babies. Gullible feminist dupes took a leading role in helping to shatter our women's confidence of raising a family of her own people.
At the same, the immigrant floodgates were pushed wide open to encourage 3rd world nations to emigrate their vast numbers to our traditional White nations!
Our hidden rulers (not elected politicians beholden to their masters) initiated this process of importing a more dumbed-down, and more manageable disunited populace in our once-thriving, and stable homogeneous nations. This agenda has been in the planning stages for at least 100 years… read about "A Racial Program for the 20th Century". 
Mass 3rd-World Immigration is GENOCIDE Against European White Nations 
Racial diversity DESTROYS unity … if you've not already concluded that fact yourself!"  –Browser
*****
[ Visible Minorities (NON-Whites) of CANADA, 1981-2016 —Stats Canada]
(EXCLUDED are 5% Native Indians in this graph)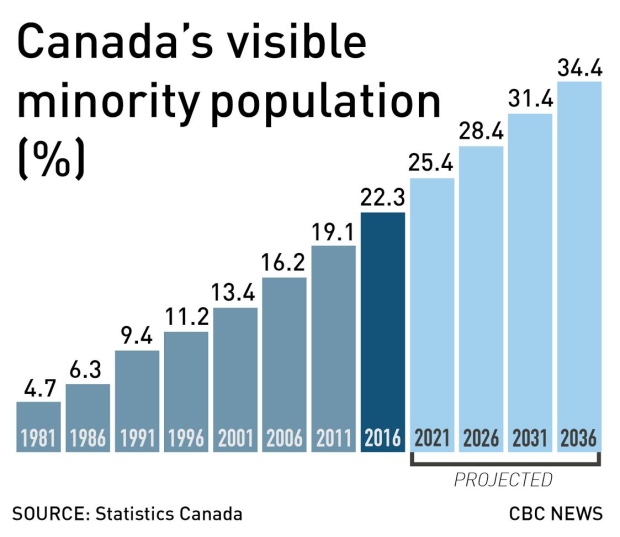 WHITE Canadians are plummeting in population numbers in direct proportion to the INCREASING influx of NON-white immigrants from 3rd world countries.
White–Euro CANADIANS are now LESS than 73% of Canada's population in 2016– and continues to spiral downwards every month — to the glee of some foreigners!
( https://elliotlakenews.wordpress.com/2010/02/26/emboldened-minorities-eye-canada/ )
ALSO READ:
*****
Is Racial Diversity Good For Canada?
*****
Canadian City Abhors "White Privilege"
Emboldened Minorities "Eye" Canada
*************IMMIGRANTS*************
Canada, Open To Immigrant Abuse
Mass Immigration's Negative Effects
*****************************************
Canada's Immigrants, NO Help To Us!
Score Card: Immigrants 1, Canadians 0
****************************************
*************************
Say NO! To White Liberal Guilt
**********************************
State Destruction of the Family Unit
False Arguments Given For ("Needed") Population Growth
**************************************************************
Radical Feminists Are Useful Idiots

Commie Plan For American Women
German Government Promoting INCEST

Feminism Has Communist/Marxist Roots
Stay up-to-date:
Related articles