TORONTO Subway Station (Circa 1967)
Canada 96.8% WHITE: Immigration from 1914 to 1967
Most Canadians prior to WWII were not immigrants, but descendants of families born and created as a new people on the soil of Canada. (Founded in 1867)
Many immigrants (settlers) started to arrive after 1815 — particularly in the 1830s and 1840s — and between 1895 and 1914 — but the overwhelming number of these immigrants were compatriots from the British Isles … including a smaller number of European Whites.
UKRAINIAN settlers arriving in Quebec City – 1897
We have also seen that if we were to abide by the dictionary definitions of "pioneer," "settler," and "immigrant," rather than the newspeak of cultural MARXISTS, we would have to conclude that almost ALL immigrants to Canada prior to 1914 (really prior to 1945) were pioneers and settlers…  rather than "immigrants".
"… YESTERDAY's immigrants were handed nothing for free and they made no demands. [Unlike today,] they didn't walk off the plane into a comfy, warm, tax-funded city apartment or motel room, meet with their tax-funded immigration lawyer, and start whining about their religious or cultural 'rights'." >more HERE.
It was only after World War II (1945) that "Immigrants" (in the true sense of this word) began arriving in Canada.
From 1914 to 1967, many immigrants were still British — and almost all of them WHITE. I am designating these incomers as "immigrants," — not in a negative sense — but in the sense they arrived in a country already built with British and French political institutions, values, languages, and religious traditions. These post-1945 immigrants did not settle in farmsteads or new frontiers … but in highly modernized cities. […]
City of TORONTO – 1943   (Rare colour film – No sound)
FULL
screen, click bottom-right box on video.
So… What is this guy's agenda??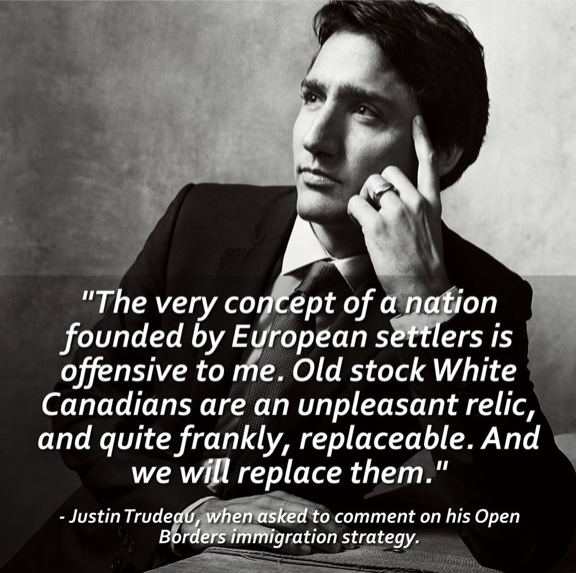 CANADA's Prime Minister – Justin Trudeau (Circa 2017)
In the year 1941 … 44% of immigrants in Canada were born in the British Isles. Canada's population was 97.7% WHITE Canadian … a higher proportion than in 1911 at 97% White. There were only 170,241 Jews, 34,627 Chinese and 22,174 "Negroes".(Canada's (1941) population: 11,506,000 people.  Source)
By 1950 … CANADA was close to maturity … The old simplicity of the work of forest and field had been replaced by the highly complicated patterns of modern industrial living. The typical Canadians were no longer the settlers and pioneers seeking new homes in the wilderness, but farm-owners and wage earners searching for security in a country that was already built up (p. 401).

FINNISH immigrants in Canada – (circa)  late-1940s

FULL report at: EuroCanadian.ca
(Photo inserts, video, bolded words by ELN Editor)
Also read: