Somali Scumbag Kills Beautiful Canadian Mother
When she was alive and well … Jenna Cartwright, 21 yrs. old … and her baby.
They let a SOMALI-born drug-dealing ("refugee") to run free and later hid all this information from the Canadian public after police arrested him for abducting, raping, torturing and killing the young woman above.
Imagine the living hell this woman went through. When the Somali had enough of doing to her whatever, the S.O.B. dumped her mutilated, half-naked dead body into a ditch where it lay rotting for over a month. The story is unbelievably tragic and infuriating.
PHOTO WARNING: The body of another rape/murder victim in Sweden is seen at the bottom of this post … murdered by, yet another AFRICAN "refugee" which is not uncommon. If you're too squeamish at the reality of such brutal crimes … don't scroll to the bottom.
From Council of Conservative Citizens
Two years ago, a beautiful Alberta woman named Jenna Cartwright was brutally raped, killed, and her body mutilated. The authorities hid information about the killer from the public. It has only now been made available.
The killer was a hard-core career criminal from SOMALIA (east Africa) who had already been convicted of multiple crimes in Canada. The Canada Border Services Agency deemed him a huge risk to public safety. They had asked that he be deported and held behind bars until the deportation took place.
Instead … the Canada's Immigration and Refugee Board (IRB) released him to continue terrorizing Alberta.
From an opinion piece in the Calgary Sun…
His rights, as a convicted drug trafficker ordered deported back to Somalia, were deemed more important than the guaranteed safety of Canadian citizens.

And so, despite warnings that Bashir Gaashaan was a flight risk* who posed a danger to the public, Canada's Immigration and Refugee Board let him go — a freedom that lasted exactly one year and eight months.
On June 15, 2011, RCMP (Royal Canadian Mounted Police) in Alberta announced they had arrested Gaashaan, charging him with first-degree murder, unlawful confinement, offering an indignity to human remains, sexual assault and trafficking in cocaine.
The body of Jenna Cartwright, 21, a young mom from Red Deer (Alberta), had been discovered in a ditch near Olds, Alberta — and police believe the (foreign) man ordered out of Canada two years earlier had killed her.
"I'm so angry, even more angry than before — the whole thing is sickening," says Marissa Cartwright, Jenna's twin sister.
For the first time, she's having a look at documents obtained by the (Calgary) Sun detailing Gaashaan's release by the (IRB) Immigration and Refugee Board.
"I am still in such shock about this," says Cartwright, who started an online petition demanding stricter deportation rules.
"I cannot believe this has happened, I honestly feel betrayed by our government — we should be able to rely on our government and know they are keeping us safe."
But public safety, apparently, doesn't trump the comfort of a convicted drug dealer — even one already deemed unfit for Canada.
* "Flight risk," as in allowing him to freely go where he pleased while his case for deportation worked it's way through the Canadian system — probably even running loose after. We've had the same kind of BS going on in America, too. [INCOG] >Source

ARE YOU SURE, girls ?!?!   White Euro women of child-bearing age are just a mere 2% of the world's population  of 7,500,000,000 [Billion] people!


Elin Krantz, alive and well, 27 yrs. old
BUT … no longer!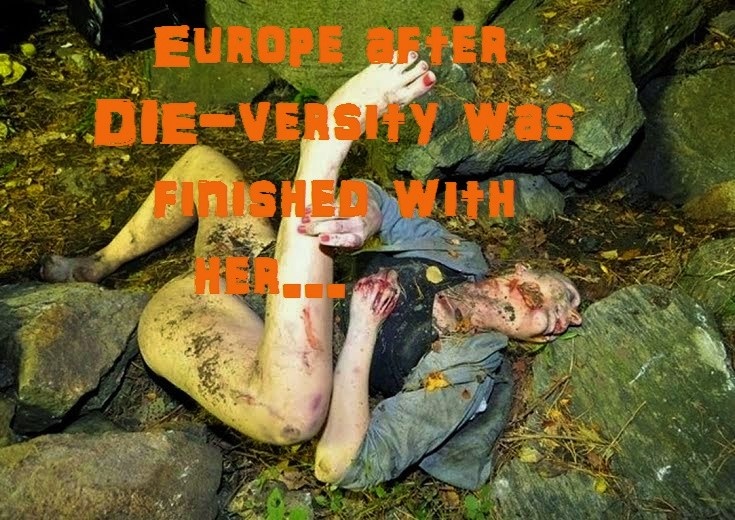 The body of Elin Krantz who was brutally raped and murdered by a Black African "refugee". BLACK murderers are often compelled to defile the dead bodies of their White victims after killing them. The body was deliberately positioned in this manner by her killer to humiliate and demonstrate their real hatred of Whites.

No remorse from her rapist/killer … just a smile for the camera!
Also read:
Canadians Duped By MultiCulturalism
Canada's Immigrants NO HELP To Us
*****